Aweber recently announced its free option, you could actually sign up today. When I say free plan I'm not talking about some 30-day trial or a month free if you sign up for 12 months.

It is a really functional account, that you can use it for as long as you want, free access for life, without having to sign up with a credit card.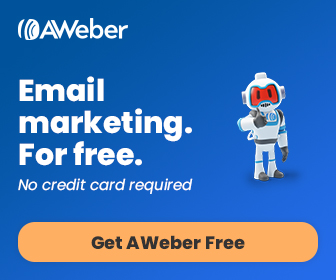 The question is, if the new Aweber free account actually worth it or not. Should you sign up for an Aweber account? Or should you go with a different email autoresponder altogether?
Main Features of Aweber Free Plan
In this article, we are going through over all the details, everything that you need to know about this new Aweber free plan.

So you can determine for yourself, which way to go, whether or not you choose to use Aweber, or if you want to pick something else.
Prior to this new option being available, Aweber had its lowest entrance membership at $19.00 a month.
And this is of course, after a 30-day free trial, so at the beginning, when you signed up to Aweber, you would sign up for a free 30-day trial.

This is great news, especially if you're a beginner email marketer, or if you're considering moving over to Aweber, and just want to try out some of the features and its benefits and the tools.

Obviously, with the free plan, there is going to be some limitations. And we want to go over exactly what those limitations are, and what features that you do get with this version.
So if we take a look at a Weber's new free option, you can have up to 500 subscribers and it allows you to build up one email list. And then you could send out 3,000 emails per month.

Clearly, building up to 500 email subscribers should be more than enough if you're just starting from zero. On the other hand, 3,000 emails per month might sound like a lot initially.

However, if you get your email list up to 500 subscribers, you could broadcast to your list only six times.
Doing the math, let's say you send the broadcast to that full 500 subscribers, then you can send out six times per month, totaling 3,000 emails pretty much all together.

Of course, if your subscriber's list is getting bigger or you decide that you want to send more later on, then you would ideally want to upgrade to the pro version.

But the thing that makes Aweber's free version outstanding, is that they allow you to set up email automation with your list.
You can set up a series of emails that go out for you, on your behalf, according to conditions you have set up in your email sequence dashboard.

And this is really awesome feature, because if you really want to build up your online business properly, you have to be able to automate a huge portion of it.

If you want to build out an email list, and if you want to use email sequences, where the emails go out automatically, that is a definitely must have.
More Features of Aweber Free Plan
We also want to go over some of the other features that are inside of this free version. An extra feature that is included in the free plan is the drag and drop email builder.

With Aweber, it's very easy to start writing emails, it's set up to be newbie friendly, and the use of email builder will help you just drag in whatever elements that you want.

You could drag in an image or video, you could drag it in paragraph, headline, or anything like that inside of the email template, and this will bring up exactly what you want.
It is really simple to use all the above features even if you have not had much experience, it's pretty easy to really get your hands on it.

There are also hundreds of email templates. So again, if you are someone who's completely inexperienced, you can use any of the templates that are proven to perform well.

One other thing that it is really brilliant about Aweber's free plan is that you can create your own landing pages.
And it's not just like, a few landing pages that you could build but there are plenty of ready – made templates to choose from.

It solely depends on what your goal is; you could use some of the templates that Aweber have.

They have thousands of nice images and video landing pages. And then they also have Google Analytics and Facebook pixel tracking.
If you are planning to do any sort of Facebook ads, or Google ads, you want to be able to track exactly where your leads and sales are coming from.

There are no restrictions in terms of how many landing pages you can create, you can build literally unlimited landing pages.

This is included with both the pro and the free version, so there's no restrictions in terms of how many landing pages you can create.
Competition
The purpose of this article is not a full review of Aweber but we would like to compare it with two other very good email autoresponders options like Omnisend and ConvertKit.

Omnisend and ConvertKit are offering the option to choose a free plan, and both of them had this choice before Aweber.

Convertkit's free plan comes with 1,000 subscribers, customizable domain and unlimited landing pages and traffic.
You have no access to email sequences, in order to add that feature and you must upgrade to Creator version which starts from $29.00 per month

That is the same with Omnisend as well. Comparing with ConvertKit, the only difference is that you can send up to 15,000 emails per month without any subscriber's restrictions.
In order to have access to email automation you have to upgrade to Standard plan which will cost you $16.00 per month.

What we found awesome about Aweber comparing with main competitors, is that it allows you to set up email automation with your list.

And this is really important, because you have the tools to automate a really huge part of your online business and work more efficient.
So having access to the email automation it is definitely crucial and must have. ConvertKit and Omnisend do not offer this feature with the free plan.

One last thing that we want to highlight is the customer service and support. Aweber offers 24/7 live support through phone, email or chat.

With ConvertKit, premium support is not available, that is a premium feature only. So if you want to contact someone with ConvertKit, you do need to have a premium paid plan.
Omnisend, does not provide any support either and you have to upgrade to Standard version to get email and chat support.
That is a big downside, because if you're someone who is completely brand new, and you have not much experience with email autoresponders, you will definitely need it.

And eventually, you will need to ask a question, from a simple query about email to a more complex such as how to connect your landing page.

Ideally, you want to be able to get in contact with someone that can help you, and with Omnisend and ConvertKit, unfortunately, that option is not available.
But with Aweber, you can always contact their support desk, call them, email or chat with someone, live, to respond to whatever questions that you might have.
You can use it as much as you want.

Finally, Aweber is an established email marketing platform, one of the first in this market, so you will find it easy to integrate with many different sort of tools and software.
Aweber's free plan is one of the best – if not the best- option in the market today.

Especially, if you are someone new to email marketing, you're just building up your very first list for the very first time, then this is definitely something that you might consider checking out.

So with the free version, you can build one email list with up to 500 email subscribers, and you will be able to send out 3,000 emails per month.
The most amazing feature is that you have access to email sequence (automation). It is critical to learn how to automate your business properly if you want to really build it up correctly.

Email list and a basic structure of email automation, are two main assets that you will need to master, if you really looking to build up your business in the long term.

Also, even with the free version you have access to 24/7 live support (phone, email, chat). Aweber's customer service and support is vital mainly for new email marketing users.
If you want, check out Aweber for yourself, click that link (image) which is down below and you can get access to the free plan.